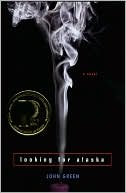 Bibliography -
Green, John. 2005. Looking for Alaska. New York: Dutton Books. ISBN 9780525475064.
Plot Summary –
Pudge (Miles Halter) is a high school junior from Florida who decides to go to an Alabama boarding school to find the "Great Perhaps" in this contemporary young adult realistic fiction novel. Miles, a lanky geek, had given up on having friends in the seventh grade, which sparks his curiosity about his soon to be roommate Chip at Culvert Creek Preparatory School. Pudge completes a group of misfits in which he becomes friends with some and falls in love with one, Alaska Young. Alaska has a terrible accident, and Miles, driven largely by guilt, tries to discover the truth of her accident. In his quest for the truth, Miles learns to forgive and finds his way "out of the labyrinth of suffering."
Critical Analysis –
This unforgettable story of a group of high school friends and their first year at a boarding school captivates the reader through Green's lifelike characters, impressive style, and poignant adolescent themes. Green's realistic depiction of teenage friendships, love, pranks, and language may cause some to challenge this novel for public schools; however, it is a powerful story that older readers will benefit from experiencing. While some may feel that Green's handling of teenage sex, drug use, and alcohol may be treated in a nonchalant way, in the end, the seriousness of choices along with their consequences is fully explored.
Green's characters are vivid and real. He provides the reader with an up close and personal look at each one of the main characters. The group of four misfits and later five are all brought together through their differences. Each one does not fit in with the regular students who Miles calls "Weekday Warriors." The Weekday Warriors are the local rich kids who go home every weekend. Miles and his friends are outside the norm, and therefore naturally gravitate to one another. Miles Halter, nicknamed ironically Pudge, is a lanky geek who loves to read people's last words. His roommate Chip, nicknamed the Colonel, is extremely intelligent and extremely poor. Takumi perhaps the dorkiest of the bunch loves to run with a fox hat on his head. All three boys adore Alaska Young who is full of energy, emotionally moody, and loves to read. These four bond together because they feel no one else can understand their idiosyncrasies. Later, another misfit, Lara joins the group as Miles's sort of girlfriend. She is a wealthy Romanian girl with a strong accent.
Green's style is striking to the young adult reader. Most engaging is the almost journal like format told in first person point of view. There are two main sections of the novel – "Before" and "After". The reader immediately realizes that something happens that changes their lives forever. In the "Before" section, the days countdown to the great tragedy, and in the "after" section, the days count away from it. In either direction going toward that day or away from that day, the days contract and then expand focusing the reading into the catastrophic event. Since Green writes first person in a conversational tone, Miles (Pudge) compels the reader to become part of the story. For example on page 186, the Colonel is relating the events on the night of Alaska's accident as he recorded them from his conversation with Alaskas's boyfriend Jake. The Colonel reports that Jake asks her what she is doing and she says, "Nothing, just doodling," and then starts cussing and crying. At this point, the reader wants to yell at them, "Look at the doodling! It has to help explain what happened that night." Unfortunately, it does not strike them yet, and the reader has to wait for Miles's thoughts to catch up.
Additionally, the language of this conversational tone brings the story to life. Green uses dialect when appropriate especially the Southern dialect of Alabama. In addition, he uses particular speech patterns like when Takumi, who is Japanese, says, "I think we run now (p. 63)". While Green uses this language pattern of dropping the helping verbs, which gives the reader an early hint that Takumi is of Asian descent, it is not done in a stereotypical manner. It is merely how Takumi speaks. Another instance of his conversational tone is when Lara enters the story. She is a Romanian girl who speaks with an accent. She explains that she has trouble with certain vowel sounds. The story is more realistic since Green has everyone speaks in a manner expected for their unique upbringing.
Green's greatest accomplishment is his handling of profound themes in a way that is not moralizing. He addresses feminism, immortality, and the afterlife all of which are ever-present in the mind of young adults. Green uses Alaska Young as the one who makes sure young woman are treated equally to men. She never misses an opportunity to point out to the guys when their words or behavior is sexist. In fact, after her death, Miles remembers her efforts in this matter when he says, "I almost told him that Alaska wouldn't want him to call any woman a bitch…" (p. 169). The most pronounced example is the final prank the junior class decides to pull in memory of Alaska. Its name says it all, "Subverting the Patriarchal Paradigm," (p. 199). Young adult males have a way of objectifying women, and Green causes them to rethink this behavior.
Two other intense and closely linked themes for the young adult are immortality and the afterlife. As Miles says, "Teenagers think they are invincible," (p. 220). Green fully explores this idea through the heartbreaking death of Alaska. Through Alaska's death, Miles realizes not all teenagers are invincible and spirals into deep dark depression in large measure to his overwhelming sense of guilt. He thought that he should have realized just how drunk and upset she was and not let her drive. He and his roommate spend all their emotional, mental, and physical efforts into determining if her death was an accident or suicide in their attempt to come to terms with immortality may not be reality. Before Alaska's death at the end of the first semester, Miles's religion teacher gives the class a topic for their final exam to ask one question and answer it based on what they had learned about religion. Miles's question is "What happens to people after they die?" (p. 78). He had no idea that he would have to live through the realization of the answer.
During the process of coming to terms with Alaska's mortality, Miles comes to realize his true thoughts on the afterlife Very insightful, Mr. Hyde the religion teacher uses Alaska's question from the first semester as the question for the second semester exam. The question is "How will you—personally—ever get out of this labyrinth of suffering?" This probing question leads Miles to his own enlightenment based on his life changing experiences over the past months. He realizes three things: 1. to survive the labyrinth of suffering, one has to forgive (p. 218); 2. "…see the endless string of consequences that result from our smallest actions," (p. 218); and, 3. the meaning of Thomas Edison's last words, "I don't know where there is, but I believe it's somewhere, and I hope it's beautiful" (p. 221). This powerful young adult contemporary realistic fiction will leave the reader thinking about the "Great Perhaps."
Review Excerpts –
School Library Journal – "This novel is about real kids dealing with the pressures of growing up and feeling indestructible."
Children's Literature – "This is an amazing first novel by a writer who is young enough to vividly remember his poignant years of high school and skillful enough to turn his memories into story."
Kirkus Review – "What sings and soars in this gorgeously told tale is Green's mastery of language and the sweet, rough edges of Pudge's voice."
Awards:
Michael L. Printz Honor Book
Finalist, 2005 Los Angeles Times Book Prize
2006 Top 10 Best Book for Young Adults
2006 Quick Pick for Reluctant Young Adult Readers
Connections –
* Share poetry of W.H Auden and Edna St. Vincent Milay. Discuss why Green might have chosen these poets to use.
*Share excerpts from The General in His Labyrinth by Gavriel Garcia Marquez.
*Have students read A Separate Peace by John Knowles. How are these two novels quite similar even though A Separate Peace is set during WWII?
*Have students discuss whether they find the ending satisfying. Have them suggest alternative endings.
*Have students create multimedia book trailers.
*Set up a blog to spark discussion on and interest in the novel.