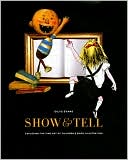 Bibliography -

Evans, Dilys. 2008.
Show and tell: Exploring the fine art of children's book illustrations.
ISBN 9780811849715.
Plot Summary -

Realizing a need to have universal vocabulary in which to discuss the fine art in children's books, Dilys Evans explores some of the best children's books to develop this vocabulary and to explain how
the illustrations qualify as fine art.
She selects a wide variety of illustrators who are diverse in styles, techniques and content. The twelve illustrators that she showcases are Hilary Knight, Trina Schart Hyman, Harry Bliss, David Shannon, Bryan Collier, Paul O. Zelinsky, Petra Mathers, Brian Selznick, David Wiesner, Betsy Lewin, Denise Fleming, and Lane Smith.
Critical Analysis -

While Evan's desire is to create a universal vocabulary to discuss fine art in children's books, she also has the expertise to accomplish the goal. She is a past art director for
Cricket
magazine, an accomplished author, adviser for Caldecott committees, and has worked with some highly acclaimed children's book illustrators. Additionally, in 1980 she founded The Original Art, an annual exhibition in New York featuring the best of children's book illustration of the year. She is uniquely qualified to take on this challenge.
The format for her book is the exploration of twelve contemporary illustrators of children's books. She looks at each illustrator separately and gives in-depth details on their life, influences in their art, chronology of their artistic career and a thorough explanation of the illustrator's individual artistic style. After reading this book, the reader has a complete understanding of how illustrations complement and enhance the text of a story. Page 125 offers an excellent example of the depth of her explanations. There she shows photographic images to support her written explanation of Denise Fleming's use of "pulp painting." Evans has masterfully created a book that will be a must have for librarians and anyone else who has a desire to learn more about the world of fine art in children's books.
Review Excerpts -

School Library Journal (starred review) -
"Who better to 'show and tell' how children's book illustrators work their magic than Evans, whose life mission has been to advocate for their status as fine artists."
Booklist -
"This attractive title will be a boon for librarians, teachers, students, and anyone else who wants to learn to look at and talk about the art in children's books, as well as better understand the stories behind the pictures."
Connections -
*
Share children's books by illustrators showcased in the book. Then share what
Show and Tell: Exploring the Fine Art of Children's Book Illustrations
says about the illustrator and his/her style. Discuss.
*After exposing children to stylistic descriptions of an illustrator and sharing a book by that illustrator have the children try the artistic style for themselves. Be sure to emphasize that the goal is not to create something "perfect," but to experiment and explore a particular style of art.
*Use
Show and Tell: Exploring the Fine Art of Children's Book Illustrations
to introduce children to the vocabulary necessary to discuss fine art in children's books.
*For older children, use
Show and Tell: Exploring the Fine Art of Children's Book Illustrations
to conduct research o contemporary children's book illustrators.